A Chican@ Christmas: Navidad Through the Eyes of La Virgen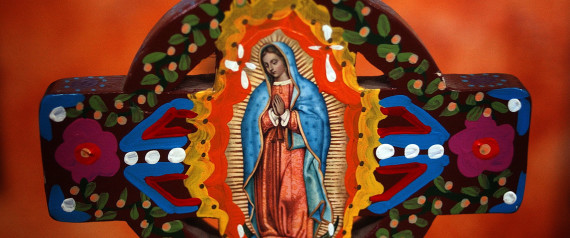 I've recently begun attending a bilingual Spanish-English church. It's been a very healing experience for me because I grew up in Latin@ churches. It's a homecoming of sorts. I love singing worship songs in Spanish, hearing the Word of God in Spanish, and fellowshipping with mi gente, mi raza.
Another thing I LOVE is learning about the Word of God through Latino eyes. As Chican@s and Latin@s we uniquely reflect the image of God and, based upon the distinct and beautiful cultural heritage God has given us, we have unique insights into who God is. This is how the Body of Christ is intended to work:
"Just as a body, though one, has many parts, but all its many parts form one body, so it is with Christ… But in fact God has placed the parts in the body, every one of them, just as he wanted them to be. If they were all one part, where would the body be? As it is, there are many parts, but one body." 1 Corinthians 12: 12, 18-20.
I love being part of, and learning from, the Chican@/Latin@ Body of Christ.
My friend, Pastor Marcos Canales recently preached a sermon about Advenimiento (Advent) through the eye of La Virgen. I was so touched by it that I feel led to write about it as a Christmas reflection.
As symbolized by the 1st candle of the Advent wreath, at Christmas time we celebrate the hope of Jesus. We celebrate that Christ came into this world to make all things new. All the hurt and brokenness in the world is the result of sin and us human beings turning our backs to God. Our families are devastated because we look not to God but to our own human selfishness. Our societies are characterized by unjust economic gaps and widescale poverty because we fail to love God with all of our heart, soul, mind and strength, and we consequently fail to love our neighbors as ourselves. Immigrants are abused, wars are fought, and our personal lives become shattered because we turn our central focus away from God.
At Christmas we find HOPE because we are reminded again that Jesus is making all things new.
"Nevertheless, that time of darkness and despair will not go on forever… For a child is born to us, a son is given to us. The government will rest on his shoulders. And he will be called: Wonderful Counselor, Mighty God, Everlasting Father, Prince of Peace [Shalom]. His government and its peace will never end. He will rule with fairness and justice from the throne of his ancestor David for all eternity." Isaiah 9:1, 6-7
Jesus is the Prince of Peace, or of "Shalom." In the original Hebrew language of this text, "shalom" means wholeness, healing ,and restoration. Jesus came to bring wholeness, healing, and restoration to all of His creation. No aspect of our personal, familial, or social lives are excluded from the redemptive and restorative love of the Savior. This is what we celebrate during la Navidad; en esto tenemos esperanza.
It is beautiful to reflect upon the hope found in the cántico de María (Mary's Song). God first announced the hope of His coming salvation to a young virgen girl from a despised city (Nazareth) of a marginalized border region (Galilee). Indeed, God literally birthed His salvation in her womb. In our modern day terms it woud be like God choosing to enter the world through the womb of a young, unwed Latina teenager from the city of Compton in the region of South Los Angeles.
In response to this tremendous honor, La Virgen glorified God and declared:
"Mi alma glorifica al Señor, y mi espíritu se regocija en Dios mi Salvador, porque se ha dignado fijarse en su humilde sierva. Desde ahora me llamarán dichosa todas las generaciones, porque el Poderoso ha hecho grandes cosas or mí. ¡Santo es su nombre!" Luke 1: 46-49
She recognized that God had drawn attention to her, a "humble" (humilde) young woman from a marginalized background. When Jesus came in human flesh, He did not choose to be born to a rich teenager from an aristocratic background in the fancy suburbs. No, He came to a beautiful poor and marginalized young woman whose heart was faithful.
También, Él viene a ella in the midst of a deeply, deeply patriarchal society. You think machísmo is bad in the 21st century, try 2,000 years ago in Palestine. In the context of this horrendous patriarchy, God first gave word of His coming to a young teenage woman. Even more, He gave her voice. He showed the world, from then till now, that a woman's voice is important. Indeed, that the voices of marginalized women from deeply patriarchal societies are especially important. This is what I learned from my Latino friend and pastor. This is a beautiful Latino insight into this passage.
It is also wonderful to reflect upon what La Virgen found hope in:
"De generación en generación se extiende su misericordia a los que le temen. Hizo proezas con su brazo; desbarató las intrigas de los soberbios. De sus tronos derrocó a los poderosos, mientras que ha exaltado a los humildes. A los hambrientos los colmó de bienes, a los ricos los despidió con las manos vacías. Acudió en ayuda de su siervo Israel y, cumpliendo so promesa a nuestros padres, mostró su misericordia a Abraham y a su descendencia para siempre." Luke 1: 50-55.
After learning that she would bear the Savior of the world, La Virgen found tremendous hope in the social justice that her Son would bring.
The Christ child of her womb would:
…thwart the schemes of the arrogant (desbarató las intrigas de los soberbios)…
…topple the powerful from their thrones (De sus tronos derrocó a los poderosos).
…fill the hungry with good things (A los hambrientos los colmó de bienes).
…send the rich away with empty hands (y a los ricos los despidió con las manos vacías).
Historic Latino Christianity has misrepresented La Virgen. We've portrayed her unbiblically as a docile and submissive young woman who would never rock the boat. Instead, as the words of Scripture reveal, she was a fiery prophetess!
Many people accuse me of being too radical. Yet, I've never preached a sermon or written a blog that was this direct and blatantly biased towards the poor and marginalized. God loves rich people, too, but, as this passage declares, He has a special love and concern for the poor. There's no attempt at balance or American political correctness in this passage. God has a blatant love for the poor.
And so, this Christmas I find great HOPE. I am so hopeful because I know that Jesus has tremendous, unimaginable love for me, my family, and every aspect of the world which He created. I have a long way to go, but He is changing me. I'm not the same.
As a Chican@ Studies professor and pastor I find amazing hope that, as poetically declared by La Virgen, Jesus has a special love and concern for mujeres, the marginalized, and the poor—those very persons who are most often forgotten by our world but not overlooked by the Savior. For this reason, together with my family and friends this Christmas, I turn to Jesus.
With much hope, Roberto
@ProfeChaoRomero
www.facebook.com/jesusforrevolutionaries