DACA, DAPA, and the Texas Court Ruling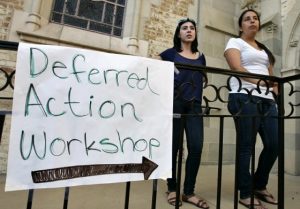 On November 20, 2014, President Obama issued a series of executive actions aimed at providing compassionate relief to those who came to the U.S. as children and to the undocumented parents of U.S. citizen children. These two provisions are known as "expanded DACA" (Deferred Actions for Childhood Arrivals) and "DAPA"(Deferred Action for Parents of Americans and Lawful Permanent Residents). In essence, expanded DACA provides three-years of protection from deportation and a work permit for those who came to the U.S. without papers before their 16th birthday. DAPA provides these same benefits, but for undocumented parents who have children that are U.S. citizens or legal permanent residents. Expanded DACA was set to be implemented on February 18, 2015; DAPA is expected to be rolled out in early to mid-May of 2015.
For more details on these two programs, see: http://www.uscis.gov/immigrationaction.
Both DACA and DAPA align closely with the biblical mandate of compassion towards immigrants. According to recent statistics, it is estimated that 6 million undocumented immigrants contribute more than 2 trillion dollars a year to the U.S. gross domestic product. Despite this overwhelming contribution to the U.S. economy, the U.S. government grants a maximum of only 10,000 unskilled labor visas to all countries in the world each year. This is what we mean when we say that the U.S. immigration system is "broken." Millions of undocumented immigrants contribute as economic citizens of the nation but are not granted the concomitant rights of political citizenship. Moreover, despite these tremendous economic contributions, our current immigration system is content to tear thousands of parents apart from their U.S. citizen children rather than fixing the very laws which are at the heart of the problem.
From a biblical perspective, the abuse of immigrants in this way is consistent with sinful human nature. As Critical Race Theory says, this type of racism is "ordinary." When we turn away from loving God, then our next step is to turn away from loving our neighbors, immigrants, and the poor, as ourselves. When we turn away from God, then we exploit immigrants and the poor for their cheap labor and refuse to treat them as human beings made equally in the image of God.
This is why more than 2,000 verses of Scripture speak of God's love and compassion for immigrants and the poor:
"You shall not pervert justice due the stranger (immigrant) or the fatherless, nor take a widow's garment as a pledge." Deut 24: 17.
"Cursed is the one who perverts the justice due the stranger, the fatherless, and widow." Deut 27: 19.
"Do not oppress an alien; you yourselves know how it feels to be aliens, because you were aliens in Egypt. Exodus 23: 9
"'Come, you who are blessed by my Father; take your inheritance, the kingdom prepared for you since the creation of the world. For I (Jesus) was hungry and you gave me something to eat, I was thirsty and you gave me something to drink, I was a stranger and you invited me in, I needed clothes and you clothed me, I was sick and you looked after me, I was in prison and you came to visit me.'" Matthew 25: 34-36.
On February 16, 2015, Federal District Court Judge Andrew S. Hanen violated these biblical commands of compassion towards immigrants by blocking the implementation of expanded DACA and DAPA. His ruling in favor of a preliminary injunction will likely be overruled, and the 5th Circuit Court of Appeals will probably stop the ruling from taking effect during the appeals process. Hanen's decision is not surprising, since, in a past case, he asserted that President Obama was guilty in assisting in a criminal conspiracy to smuggle undocumented children into the United States.
It is also not surprising to read the list of 26 states which filed the lawsuit which came before Judge Hanen: Texas, Alabama, Arizona, Arkansas, Florida, Georgia, Idaho, Indiana, Kansas, Louisiana, Maine, Michigan, Mississippi, Montana, Nebraska, Nevada, North Carolina, North Dakota, Ohio, Oklahoma, South Carolina, South Dakota, Tennessee, Texas, Utah, West Virginia and Wisconsin. Many of these states have the ugliest of racist histories involving the support of slavery, the denial of voting rights, lynchings, and legal segregation in housing, education, healthcare, and public spaces. What we are seeing today is the resurfacing of these racist histories and belief systems in modern day forms. Such racism was unbiblical then, and it is unbiblical now.
Let's take Texas as an example.
We all know that Texas supported slavery. What you might not know is that It took Texas two and a half years to implement The Emancipation Proclamation-- another unpopular Presidential executive action that sought to abolish legalized racism. Many Africans commemorate the final abolition of slavery in Texas by celebrating "Juneteenth" Day: http://www.juneteenth.com/history.htm
The U.S.-Mexico War was sparked in 1846 over a disputed narrow strip of land between Texas and Mexico. Abraham Lincoln decried the U.S.-Mexico War as an unjust war, and stated that it "was unnecessarily and unconstitutionally commenced by the President." Ulysses Grant, Civil War General and later president, believed that the U.S. Civil War was God's punishment of the United States for the U.S.-Mexico War.
To make matters worse, this war was supported by the twisted and unbiblical notion of "Manifest Destiny"—the idea that God had ordained Anglo-Saxon Americans to conquer all of North America from "sea to shining sea." Speaking of Manifest Destiny and the U.S.-Mexico War, one American soldier stated:
"I wish I had the power to stop their churches…to bring off this treasure hoard of gold and jewels, and to put the greasy priests, monks, friars and other officials at work on the public highways as a preliminary step to mending their ways…It is perfectly certain that this war is a divine dispensation intended to purify and punish this misguided nation…Most of our officers concur with me that nothing but a divine ruler and commander could have brought us safely through so much peril against awful odds."
In 1950, the U.S. Supreme Court forced the University of Texas Law school to admit black students in the case of Sweatt v. Painter. After enduring cross-burnings and racial insults, Heman Marion Sweatt dropped out of the UT Law School after just a year.
Texas supported segregated educational systems for Black and Brown children until forced to integrate by court order in the 1970's! Although segregated schools for Mexicans in Texas was outlawed in the case of Delgado v. Bastrop (1948) and for all African Americans in Brown v. Board of Education (1954), Texas continued to delay integration until the 1970's when it was forced to do so in the cases of Cisneros vs. Corpus Christi (1972—the year I was born) and Keyes v. Denver (1973). To avoid educational integration as required by Brown v. Board, Texas schools placed Mexican and African American students into segregated schools together. The reasoning—since Mexicans were legally considered "white," placing Mexicans and Blacks together constituted racial integration of the schools!
In 1973, Texas successfully argued before the U.S. Supreme Court that it was constitutional for Brown and Black students to receive less funding in the public schools than their white counterparts in wealthy school districts. In Rodriguez v. San Antonio, the U.S. Supreme Court agreed with them. SCOTUS' reasoning? Education is not a fundamental constitutional right and so the state funding policy was not subject to the most rigorous standards of judicial scrutiny. Moreover, even though Latino and Black students attended low-funded public schools which were the result of historical segregation in housing, the discrimination was not intentional and therefore higher levels of constitutional protection were likewise not appropriate. This is federal law to this day.
In 1982, the U.S. Supreme Court in Plyer v. Doe ruled that it was unconstitutional for the state of Texas to deny public education to undocumented children. Part of Texas' reasoning for denying undocumented kids an education was that these children are not "persons" as defined by the 14th Amendment Equal Protection Clause of the Constitution.
In 2013, the U.S. Supreme Court upheld the federal constitutionality of affirmative action programs which consider race as one factor of many in the educational admission process of public universities. Although white women have historically been the biggest beneficiaries of affirmative action, the court challenge was brought by Abigail Fisher, a white female student who had been denied admission to the University of Texas at Austin.
Texas has consistently, and repeatedly, opposed policies of racial equity and justice in the United States. It is my belief that Texas' strident opposition to President Obama's executive actions stands in this long, and unfortunate tradition. Many of the states who brought the lawsuit against DACA and DAPA share a similar history. For some reason, a racist spirit has pervaded Texan history and policy for the past 150 years. This racist spirit is unbiblical and must be called out for what it is. As a follower of Jesus it is our duty to do so. Please join me in doing so. Please let the world know that the decision of Judge Hanen is not ok and that God stands fiercely on the side of immigrants who are marginalized and oppressed by the U.S. immigration system.
As a follower of Jesus, however, it is also our duty to love our enemies and pray for those who persecute the oppressed. This is so hard to do, but we are called to nothing less. This was the philosophy and praxis of Christian activists such as Cesar Chavez and Rev. Martin Luther King, Jr. I've learned from them that we must fight with love and wisdom and that the goal is that all of us—you and I, Texan and Californian, Republican and Democrat, Black, Brown and White—all be transformed by Jesus in the process. Our end goal is what Rev. King called, "the Beloved Community":
"The aftermath of nonviolence is the creation of the beloved community, so that when the battle is over, a new relationship comes into being between the oppressed and the oppressor."
"But the end is reconciliation; the end is redemption; the end is the creation of the beloved community. It is this type of spirit and this type of love that can transform opposers into friends. The type of love that I stress here is not eros, a sort of esthetic or romantic love; not philia, a sort of reciprocal love between personal friends; but it is agape which is understanding goodwill for all men. It is an overflowing love which seeks nothing in return. It is the love of God working in the lives of men. This is the love that may well be the salvation of our civilization."
Agreed, Dr. King. Agreed.
In the solidarity of Jesus' beloved community,
Robert
https://www.facebook.com/JesusForRevolutionaries
@ProfeChaoRomero