Jesus 4 Revolutionaries Official Statement on Trump's Executive Actions on Immigration
Profe's note:  We are living in a crisis moment of American history.  Through his recent executive orders on immigration, our newly elected president is oppressing millions of undocumented immigrants in direct violation of more than 2,000 verses of sacred Scripture.  He is also trying to silence churches and other community organizations which have dedicated themselves to assist the immigrant community.  What follows is the official Jesus 4 Revolutionaries Statement on President Donald Trump's Executive Actions on Immigration.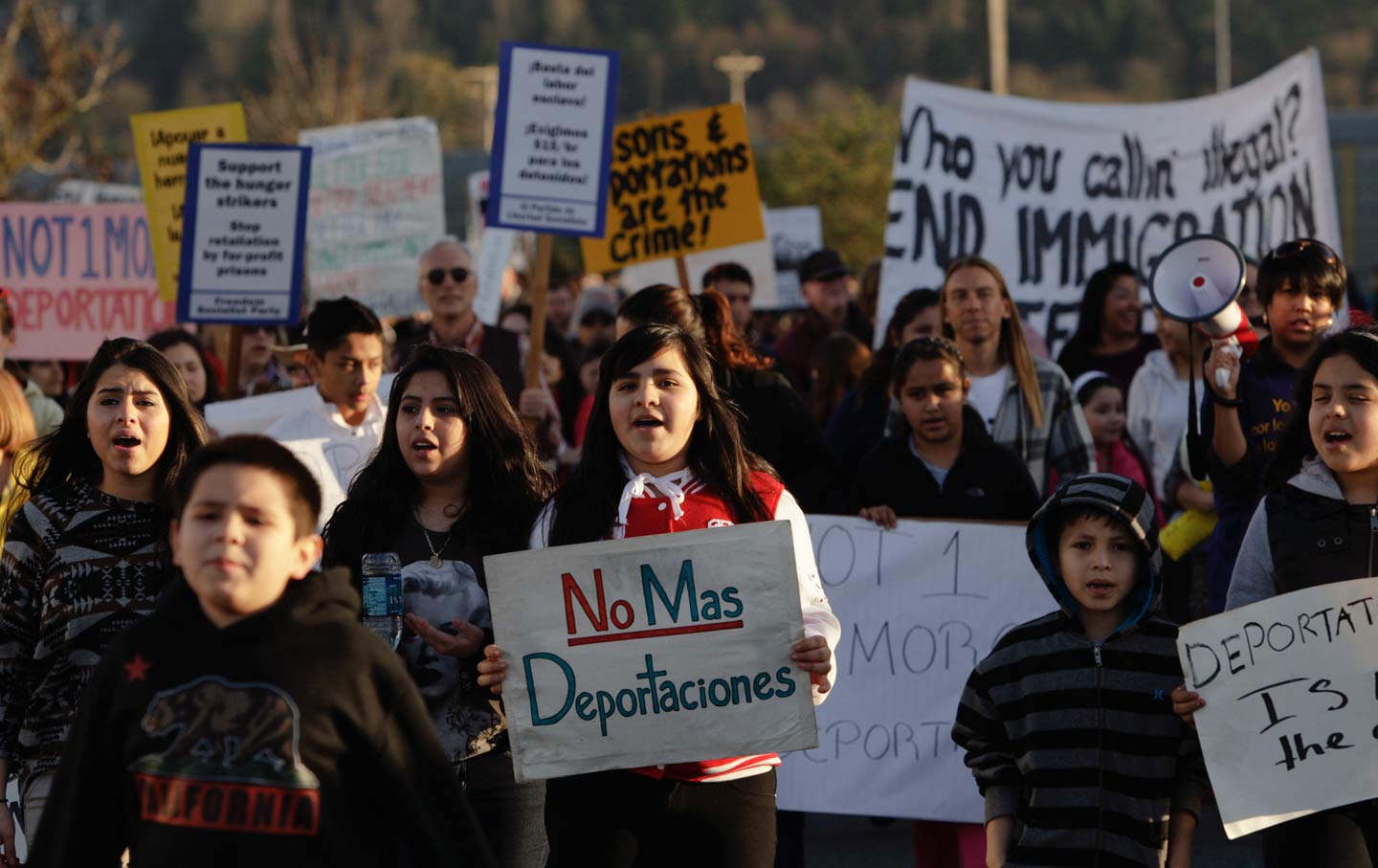 "America First." "Make America Great Again." These two slogans of the Trump Administration are idolatrous and profoundly unbiblical.  As followers of Jesus, we are commanded FIRST to love the Lord our God with all our heart and with all our soul and with all our mind and with all our strength. SECOND, we are commanded to love our neighbor as ourself (Mark 12: 30-31).  Jesus also clearly teaches us that whoever wants to be first must be the very last, and that those who wish to be great should become the servant of all (Mark 9: 35; Matthew 23: 11-12).  The entire approach of the Trump administration is idolatrous because it explicitly puts "America first" before God and neighbor.  Instead of following the model of servant leadership which Jesus modeled by giving His very own life, Trump is "lording it over" all who disagree with him—whether fellow Americans or foreign governments alike (Matthew 20: 25; Mark 10: 42).  As with all idolatry, the end result is oppression of immigrants, refugees, the poor, and the marginalized.  Donald Trump's executive orders on immigration are an expression of this idolatry and his failure to model the servant leadership of Christ, both in America and the global community. 
In violation of more than 2,000 verses of Scripture, Donald Trump's executive orders on immigration will destroy immigrant families and communities, as well as perpetuate a broken immigration system which exploits undocumented immigrants for their cheap labor and subjects them to a cycle of poverty and oppression.  According to Matthew 25: 31-46, the oppression of immigrants and the poor constitutes the oppression of Jesus Himself.  Trump's proposed physical wall, moreover, erects a cultural and spiritual dividing wall of hostility—a dividing wall which Christ gave His life to destroy (Ephesians 2: 14; Galatians 3: 28-29).
Trump's executive order also seeks to silence churches and other community organizations which assist the undocumented immigrant community.  Section 6 of Enhancing Public Safety in the Interior of the United States reads:  "the Secretary is authorized under the law to assess and collect [fines and penalties] from aliens unlawfully present in the United States and from those who facilitate their presence in the United States."  According to this language, churches in the United States will soon be fined and penalized for assisting undocumented immigrants. This is in direct conflict with God's word which commands us to welcome the immigrant and assist the marginalized (Matthew 25:31-46). In the words of St. Augustine: "An unjust law is no law at all." And, in the words of Peter, "We must obey God rather than human beings!" (Acts 5:29).
As Jesus 4 Revolutionaries, we stand with our immigrant and refugee sisters and brothers in this dark hour of American history.  In so doing, we boldly stand with Jesus Himself.  Our first loyalty is to Christ, and we will challenge any law or policy which stands in contradiction to the moral law of God.  In the words of St. Augustine quoted by MLK in "A Letter from a Birmingham Jail":  An unjust law is no law at all.  In the spirit of MLK and César Chávez, we will do so through love, prayer, and non-violent resistance.  Lord, give us strength.  Amen.
---
As a practical way of standing with immigrants, please join the Matthew 25 Movement! Matthew 25 is a new national movement of Christians from diverse cultural and denominational backgrounds who are coming together in this historic moment to pray, stand together, and act in this moment of crisis.
Sign the Matthew 25 Pledge! https://docs.google.com/forms/d/e/1FAIpQLSeXuLNeVxY8sMzhp5aOYYsd5fOt0HvXkB23GZQkwEoYhwLqnw/viewform.   Our goal is to gather 1 million signatures!  Please sign it and spread the word!
If you're in Southern California like the Matthew 25/Mateo 25 So Cal Facebook page:  https://www.facebook.com/matthew25movementsocal/.  The page is designed to be a clearinghouse for important information and resources.  We also have a twitter account:  @Matthew25SoCal.  We helped lead a training on the Matthew 25 Movement on December 18.  The  training was videotaped and can be found on the Matthew 25 So Cal FB page.
On a national level, there is also a Facebook page and twitter account for the broader Matthew 25 movement:  https://www.facebook.com/matthew25movement/ and @Matt25Movement.
For more information on how to partner with Jesus 4 Revolutionaries in solidarity with the immigrant community, please email:  Matthew25SoCal@gmail.com.
In the solidarity of Christ,
J4R