"Migration as Grace": The Vast Economic Contributions of Undocumented Immigrants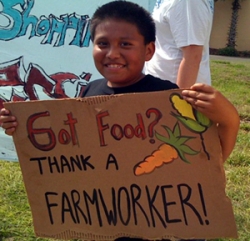 Profe's note:  Today's essay is the last in a series of three blog posts examining the theme of "migration as grace."  In the first essay, we explored the theology of "migration as grace" as reflected in the pages of Scripture:  http://www.jesusforrevolutionaries.org/migration-as-grace-biblical-historical-and-legal-reflections-on-immigration-part-i/.  Last week we traced the history of U.S. immigration law and policy, with a special focus on the dozens of anti-immigrant state laws that have emerged in places like Arizona, Georgia, and Alabama over the past decade.  http://www.jesusforrevolutionaries.org/migration-as-ungrace-critical-reflections-on-u-s-immigration-history-law-and-policy/. Our conclusion was a sober one--unfortunately, much of U.S. immigration history over the past 150 years does not square with biblical understandings of migration as grace. Instead, U.S. immigration law and policy has more often reflected an attitude of migration as "ungrace."
This final essay explores the vast economic contributions of undocumented immigrants to the U.S. economy.  Unknown to most people, unauthorized migrants contribute hundreds of billions of dollars per year to the U.S. gross domestic product, and billions more in state and local taxes.   Year after year, these vital economic contributions go unrecognized, and immigrants continue to be scapegoated for the economic woes of our nation.
Migration as Grace:  The Vast Economic Contributions of Undocumented Immigrants
 Contrary to the claims of the loud chorus of anti-immigrant politicians such as Donald Trump, undocumented immigrants serve as an important source of grace to the United States through their vast economic contributions in the form of labor and taxes.
Undocumented immigrants account for 4.3% of the U.S. labor force—about 6.3 million workers out of 146 million.[1]  They are clustered in construction, agriculture, the service sector, and domestic work.  Undocumented workers make up:
27% of drywall/ceiling tile installers
21% roofers
20% construction laborers
26% grounds maintenance workers
25% butchers/meat and poultry workers
18% cooks
23% misc. agricultural workers
22% maids and housekeepers
18% sewing machine operators[2]
Note that these are national statistics.  In places like California, Texas, New York, and Florida, the percentages are much higher.  In California, 1 in 10 workers is undocumented.[3]
To fill our ravenous need for cheap labor, approximately 850,000 undocumented immigrants came to the U.S. on an annual basis from 2000-2005.[4]   It is estimated that more than 11 million undocumented immigrants lived in the United States in 2014.[5]
It is further estimated moreover, that undocumented immigrants contribute hundreds of billions of dollars to the U.S. Gross Domestic Product.  In 2006, unauthorized immigrants contributed $428 billion dollars to the nation's $13.6 trillion gross domestic product.[6]
Undocumented immigrants are viewed positively by the federal government because of their multi-billion dollar contributions to Social Security and Medicare.[7]   In order to secure employment, many undocumented immigrants provide false social security numbers to their employers.   Billions of dollars in payroll taxes are in turn collected by the federal government based upon these false social security numbers-- to the tune of $12 billion in 2007 alone.  According to Stephen C. Goss, the chief actuary of the Social Security Administration, unauthorized immigrants contributed up to $240 billion to the Social Security trust fund by 2007.   Moreover, if not for these monumental tax contributions, the Social Security administration would have experienced payment shortfalls as early as 2009.   Ironically, undocumented immigrants support the pensions of droves of Tea Party members who are of retirement age and yet who most vehemently support draconian immigration restrictions and deportations.
Unauthorized immigrants contribute in many significant ways to state economies and state and local tax revenues as well.  Immigrants make large economic contributions not only in traditional immigration receiving states such as California and Texas, but even in southern and midwestern states not typically associated with large Latino immigrant populations.
For example, in California, unauthorized immigrants constitute 10% of the total workforce and contribute $130 billion annually to the state Gross Domestic Product.[8]  A 2006 study by the Texas Comptroller found that undocumented immigrants contributed $17.7 billion dollars to state GDP and generated $1.58 billion in state revenues.[9]   The University of Chicago reported that undocumented immigrants spent $2.89 billion in the Chicago metropolitan area in 2001 and helped support more than 30,000 jobs through their spending.
Even in southern states such as Georgia and Virginia, undocumented immigrants supply hundreds of millions of dollars per year in income, payroll, and property taxes.[10]  In 2006, the Georgia Budget and Policy Institute reported that unauthorized immigrants contributed more than $215 million in the form of income and property tax and aggregated sales.  The Commonwealth Institute, moreover, calculated that undocumented immigrants provide up to $450 million per year in tax revenue in Virginia and that they represent a critical source of labor in the construction, manufacturing, and leisure and hospitality industries.
More recently, the Congressional Budget Office (CBO) found that undocumented immigrants paid an estimated $10.6 billion in state and local taxes in 2010.[11]   These contributions varied state by state, with California receiving more than $2.2 billion and the state of Montana receiving less than $2 million. These state and local tax contributions derive from sales and excise taxes, personal income taxes, and property taxes.
The legalization of undocumented immigrants, moreover, would result in huge windfalls of state tax revenue.[12]  This increase in tax revenue would result, in part, from an increase in wages and taxable income for unauthorized workers.  Raúl Hinojosa-Ojeda of the UCLA N.A.I.D. Center projects that legalization would increase state tax revenue by $5.3 billion in California, $540 million in Arizona, $297 million in Colorado, $1.13 billion in Florida, and $4.1 billion in Texas.
A "Mathematics of Injustice":  The "grace" provided to us by immigrants goes unrecognized by our broken immigration system
 Although an estimated 11 million undocumented immigrants supply upwards of 400 billion dollars per year to the national gross domestic product, and contribute hundreds of billions of dollars more to federal and state coffers through tax contributions, guess how many unskilled labor visas the United States granted to all immigrants from every country in the world in 2010?  4,762.   Moreover, even if it wished to grant more than that, it is limited to a maximum of 10,000 unskilled worker visas annually for all nations across the globe.[1]  On paper therefore, the U.S. government claims the nation has but a small shortage of unskilled labor which requires supplementation through the awarding of a miniscule number of unskilled labor visas; in reality, however, it depends upon, and exploits, the cheap, supplemental labor of more than 6 million undocumented immigrant workers.
Fairness, indeed, biblical justice, requires that the U.S. government recognize the manifold economic contributions of immigrants by granting them a concomitant number of work visas and/or legal residency status. To refuse to do so is biblical exploitation (Deut.10: 17-19; Ex. 23:9; Matt. 25: 35-40).  The failure to provide immigration relief constitutes biblical oppression, for it perpetuates a system in which 11 million immigrants are exploited for their multi-billion dollar economic contributions but denied basic civil and human rights.  It is tantamount to slavery—benefiting from the labor of a human being but purposefully denying her/his fundamental humanity.  Stated another way, although undocumented immigrants already participate as economic citizens of this nation, they have not been granted the concomitant rights of political citizenship.  Even worse, despite their vast economic contributions, undocumented immigrants have been scapegoated for the economic woes of our nation and are being manipulated in the national discourse for short-term political gain.
Conclusion
The Christian community of the United States has a serious moral choice to make with respect to the 11 million undocumented immigrants that God has brought to live with us as neighbors.  Will we model to them the radical hospitality of the God of Abraham, or will we reflect to them the oppression of Egypt?  Will we be Pharaoh or Jesus?  As a reflection of Pharaoh, will we continue to exploit their cheap labor in order to buttress our economy while at the same time scapegoating them as part of an imagined political threat and the "war on terror"?  Or, in reflection of Jesus and His radical hospitality, will we humble ourselves to recognize the manifold expressions of grace we receive from them and reciprocate this grace through the compassionate reformation of our immigration laws?
If the Christian community continues in the historical trajectory of the Chinese Exclusion Act, the Emergency Quota Act of 1921, Operation Wetback, Proposition 187, and Arizona SB-1070, then we will be known as Egypt.  We will also destroy the witness of Christ which is just now beginning to be rehabilitated through the important work of organizations such as the Evangelical Immigration Table, Christians for Comprehensive Immigration Reform, and the Christian Community Development Association.
As our other alternative, we can choose to embody God's grace to the immigrant community by drawing from the biblical examples of Abraham, Ruth, Naomi, and Jesus.   It is interesting to me that Egypt got a second chance.  Although it was condemned in the Exodus narrative for its exploitation of the Israelites, in the book of Matthew we are told:
"When they had gone, an angel of the Lord appeared to Joseph in a dream. "Get up," he said, "take the child and his mother and escape to Egypt.  Stay there until I tell you, for Herod is going to search for the child to kill him" (Matthew 2: 13).
Egypt got a second chance to show hospitality—in this case to the refugee Christ-child and the Holy Family.  Reversing course from the xenophobic pattern expressed in the Exodus account, Egypt lived out radical hospitality towards Jesus the Messiah, Joseph, and Mary.
If this biblical narrative were to take place in the United States today instead of in Egypt 2,000 years ago, would Jesus and His family be welcome?  Or would we pass new immigration laws and policies to deport them?  Indeed, this is the exact challenge posed to us by the spiritual principles of Matthew 25 and the various selections of Scripture which have been explored in this essay.
Jesus and His mother now appear to us in the distressing disguise of 11 million undocumented immigrants and refugees from Mexico, El Salvador, Guatemala, Honduras, China, the Philippines, and Syria, as well as from many other countries from throughout the globe.  Like Jesus and Herod, many of them, especially those from Central America and Syria, are fleeing violence and bloodshed.  Many others are fleeing poverty and social displacement caused by the forces of economic globalization and U.S. international economic policy.  For the past 150 years, the United States has treated most immigrants from Mexico, Latin America, and Asia like Pharaoh and the Israelites.
Like Egypt and the Holy Family, the United States now has a second chance.  Will we make it right by welcoming, with radical hospitality, the millions of immigrant neighbors who now live in our midst?   Will we pass compassionate immigration reform which takes seriously the biblical principle of migration as grace?  The choice is ours.
Robert Chao Romero
@ProfeChaoRomero
https://www.facebook.com/JesusForRevolutionaries/
[1] Jessica Vaughn, "Proposal to Axe Green Cards for Unskilled Workers Considered,"  Center for Immigration Studies, last modified October 28, 2011, http://cis.org/vaughan/green-cards-for-unskilled-workers.
[1] Bill Ong Hing, Deporting Our Souls:  Values, Morality, and Immigration Policy  (Cambridge: Cambridge University Press, 2006), 13-14.
[2] Hing, Deporting Our Souls, 13-14.
[3] Kate Linthicum, "Nearly 1 in 10 California workers is in country illegally, study finds," Los Angeles Times, September 3, 2014.
[4] Jeffrey S. Passel and D'Vera Cohn, "U.S. Unauthorized Immigration Flows Are Down Sharply Since Mid-Decade," Pew Research Center, last modified September 1, 2010.
[5] Jeffrey S. Passel and D'Vera Cohn, "Unauthorized Immigrant Population Stable for Half A Decade," Pew Research Center, last modified July 22, 2015.
[6] Travis Loller, "Many Illegal Immigrants Pay Up At Tax Time," USA Today, April 11, 2008.
[7] Edwar Schumacher-Matos, "How Illegal Immigrants Are Helping Social Security,"  Washington Post, September 3, 2010.
[8] Jodie Gummow, "New Study: Undocumented Immigrants in California Contribute $130 Billion To State GDP," Alternet, last modified September 4, 2014,  http://www.alternet.org/immigration/new-study-undocumented-immigrants-california-contribute-130-billion-state-gdp.
[9] American Immigration Council, "Assessing the Economic Impact of Immigration On A State and Local Level," last modified August 18, 2009, http://www.immigrationpolicy.org/just-facts/assessing-economic-impact-immigration-state-and-local-level.
[10] American Immigration Council, "Assessing the Economic Impact of Immigration."
[11] Institute on Taxation and Economic Policy, "Undocumented Immigrants State and Local Tax Contributions," last modified July 2013, http://www.itep.org/pdf/undocumentedtaxes.pdf.
[12] American Immigration Council, "An Immigration Stimulus:  The Economic Benefits of a Legalization Program," last modified April 2013, http://www.immigrationpolicy.org/just-facts/immigration-stimulus-economic-benefits-legalization-program.